Beverly Hills Chiropractor Treats Whiplash Injury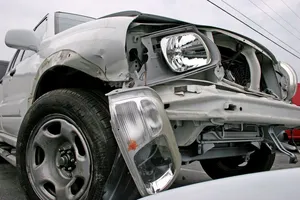 If you are experiencing neck pain following a car accident, you may have sustained a whiplash injury. Whiplash is one of the most common auto accident injuries. You do not need to be in a serious accident to suffer whiplash injury pain; accidents at speeds as slow as 5 mph can cause traumatic injury to the musculoskeletal system. Chiropractic care is an effective treatment for whiplash that can help ease your neck pain and other injury symptoms without the need for medication.

Pain Management for Whiplash and Auto Accident Injury
Whiplash injuries occur when the force of a rear-impact accident 'whips' the cervical spine backwards and forwards, beyond its normal range of motion. This whipping action pulls the spine out of alignment, causing an abnormal curvature of the cervical spine. An auto accident injury like whiplash is serious, even when it occurs at slow speeds. Without proactive care, you may suffer from recurring neck pain, migraines, headaches and other health problems for months or even years. Our Beverly Hills chiropractor is trained in the diagnosis and treatment of whiplash injuries, and committed to helping you safely and effectively manage this pain.
In addition to neck pain, soreness and stiffness, symptoms of an auto accident injury include difficulty concentrating, sleep disturbances, headaches at the base of the skull, dizziness, fatigue and jaw pain. If you are experiencing any of these symptoms after a car accident, we recommend scheduling a diagnostic appointment with our chiropractor to determine the precise cause for your pain. While some symptoms develop within 24 hours, other symptoms may not occur until weeks after the accident. In general, our chiropractor recommends a diagnostic exam for anyone who has been in a car accident. The earlier we diagnose the cause for your pain, the more we can do to treat and relieve these problems.
Chiropractic adjustments to the cervical spine are an effective treatment option for whiplash injuries. These gentle adjustments target the underlying misalignment that is responsible for your pain. Restoring proper alignment to the cervical spine not only helps to relieve neck pain, but also minimizes the frequency of headaches and migraines that are triggered by the spinal misalignment.
In addition to chiropractic care, many of our patients benefit from complementary treatments, including physiotherapy exercises to reduce swelling and restore mobility. After an auto accident, it can be incredibly painful to move the head from side to side or to look backwards and forwards. Our Beverly Hills chiropractor will teach you specific exercises to restore mobility without risking future injury.
At Beverly Hills Comprehensive Medical Group, we believe that an integrated approach to pain management produces the best results for our patients. Our chiropractic physicians keep your primary care doctor informed of all treatments. Our goal is to not only relieve your pain, but to improve your health from the inside out.
Schedule an appointment with our Beverly Hills chiropractor at Beverly Hills Comprehensive Medical Group today!