Spinal decompression is beneficial because it helps to reduce pain associated with spinal disc issues. Spinal decompression is a therapy that involves gently stretching the spine to reduce tension and improve circulation throughout the back. Spinal decompression will allow damaged discs and tissues to heal faster and more effectively. At Beverly Hills Comprehensive Medical Group, we have been sharing the benefits of spinal decompression therapy with Beverly Hills residents for many years. Our chiropractor will assess your condition to determine how you will benefit from this treatment option.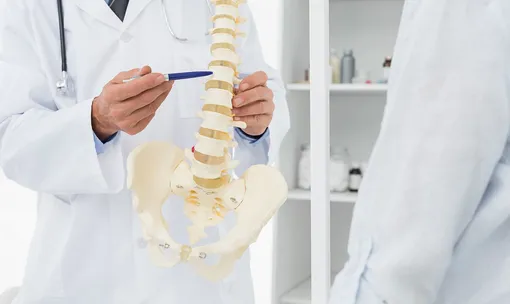 Benefits of Spinal Decompression
Spinal decompression is a natural and non-invasive method of treating disc injuries, headaches, and back pain. People normally experience a limited range of motion due to injury, age, or lifestyle. This can result from herniated discs or degeneration. As a result, many patients report discomfort and pain in their legs and spine. Spinal decompression therapy is a treatment that comes with low risks and is a great alternative to surgery and prescription medication. Patients who undergo spinal decompression will find relief from:
Neck pain
Back pain
Herniated discs and bulging discs
Sciatica
Diseased or injured spinal nerve roots
Posterior facet syndrome
The Procedure
You will remain fully clothed during the procedure. Our chiropractor will put a harness around your pelvis and one around your trunk. You will be told to either lay face up or face down on a computer-controlled table Our chiropractor will customize your treatment depending on your needs.
Treatment generally lasts between 30 and 45 minutes. You may be required to have between 20 and 28 treatments over five to seven weeks. Depending on the condition being treated, our chiropractor may recommend you undergo other treatments before spinal decompression such as heat or cold therapy, ultrasound, or electrical muscle stimulation. People with any of the following conditions should avoid spinal decompression:
Tumor
Fracture
Abdominal aortic aneurysm
Advanced osteoporosis
Metal implants in the spine
Schedule an Appointment with Our Chiropractor in Beverly Hills
Chiropractic care is beneficial for many medical conditions. If you are experiencing pain and would like to see if you are a good candidate for spinal decompression, the chiropractic professionals at Beverly Hills Comprehensive Medical Group are ready to assist you. Our chiropractor will assess your musculoskeletal system to determine the root cause of your pain and immobility before creating a chiropractic care plan to address it. Call us today at (310) 657-0366 for more information or to schedule an appointment with our chiropractor.