Pediatric physicals are useful tools to monitor your child's health and fitness. Not only do schools require general physicals for entry into certain grades, but many school sports teams also require them for children interested in playing for the school. Beverly Hills Comprehensive Medical Group in Beverly Hills offers a wide range of services for families including a pediatric physical exam for children and infants.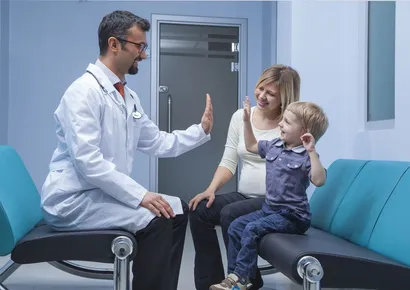 Why Are Pediatric Physicals Important?
There is plenty of evidence to support the benefits of yearly pediatric physicals for children. One of the most important reasons to have a doctor conduct a physical exam for your child on an annual basis is to monitor changes in your child's health from year to year. This can present early warning signs of health problems, growth deficiencies, and potential developmental displays in your child so that corrective treatments can begin promptly.
What Happens During a Pediatric Exam with Your Primary Care Provider?
Initially, a physical exam for children and infants begins like any other doctor visit. They will begin with a basic examination of height and weight, take vital sign measurements, verify immunizations, check vision and hearing, and conduct a screening of your child's developmental, social, and emotional growth. If indications suggest there may be problems, your child may be screened for certain conditions, like anemia, high cholesterol, or other chronic health problems for which your child either has symptoms or risk factors.
If your child is complaining of joint pain or has broken bones in the past, the physical exam may include x-rays. We may also test for vitamin deficiencies and other potential health problems your child may be suffering from. The ultimate goal of all pediatric physicals is to ensure that your child enjoys the best possible quality of life. This is accomplished through early detection and consistent care throughout the years.
Pediatric Physicals for Sports
Whether we are your primary care provider or you are visiting us for the first time, we can help examine your child's fitness for participation in certain sports. We will conduct a physical examination with the potential sport your child is considering in mind. Our doctor will examine your child to determine if there are any areas of concern for parents to consider before enrolling in a sports program.
Call Beverly Hills Comprehensive Medical Group in Beverly Hills today to schedule your child's pediatric physical or to learn more about our primary care program and the benefits it offers your child's health.