Sports Injury FAQ with your Beverly Hills Chiropractor
There are various types of sports injuries as well as different treatment options available for those that have experienced one. If you are suffering from a sports injury and want to know your treatment options or learn how chiropractic care can help, our Beverly Hills chiropractor is here to answer your questions.
What is a sports injury?
A sports injury is classified as an injury you receive while playing sports or participating in physical activity. This includes playing tennis, running, golfing and lifting weights. They are typically soft tissue injuries that involve the muscles, ligaments and tendons.
What is an acute sports injury?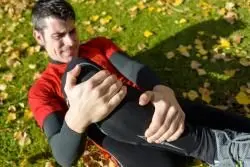 An acute sports injury is an injury that happens suddenly. When you experience an acute sports injury, the pain, swelling and loss of range of motion are instant. If you feel pain or hear a cracking or popping noise, our Beverly Hills chiropractor recommends you stop the activity immediately and apply ice to reduce inflammation and swelling. Prolonged pain or pain that lasts longer than 48 hours may require an appointment with our chiropractor.
What is a chronic sports injury?
A chronic sports injury is an injury that you have had for more than three months. Pain typically gets worse with activity or when moving the joint. Examples of chronic sports injuries include tendonitis, runner's knee and tennis elbow.
What types of sports injuries does our chiropractor in Beverly Hills treat?
Our chiropractor in Beverly Hills treats back and neck pain, pulled muscles, tendonitis, tennis elbow, runner's knee, sprained ankles, shin splints and wrist and shoulder injuries. If you are experiencing pain, stiffness or loss of range of motion after participating in a physical activity, contact our chiropractor for a complete evaluation of your sports injury in Beverly Hills.
What treatments does your sports injury chiropractor use to treat sports injuries?
Our sports injury chiropractor utilizes conservative treatments first. This means that we will make every attempt to lower your pain and heal your injuries without invasive treatments, such as surgery. Once your injury has been evaluated, we may recommend chiropractic adjustments, massage therapy and physical therapy. We also offer a range of traditional medical options, including x-rays, pain medications and anti-inflammatories.
How many treatments will I need from your Beverly Hills sports injury chiropractor?
The number of treatments you will need from our Beverly Hills sports injury chiropractor depends on how long you have had your injury and its severity. Many individuals feel better after the first few treatments, but it may take multiple treatments for several weeks before your injury is fully healed.
What can I do to reduce my chances of sports injuries?
Proper stretching and conditioning along with wearing the correct sports equipment can reduce your chances of experiencing a sports injury. Proper stretching includes walking for five minutes, then stretching all of your major muscle groups. This will help you get a deeper stretch. Proper conditioning involves working out both in the off-season and during your regular season to maintain and improve your muscle strength.
How do I schedule an appointment with your Beverly Hills chiropractor?
To schedule an appointment with our Beverly Hills chiropractor, simply call us at (310) 657-0366. We are open from 6 a.m. until 3:30 p.m. Monday through Friday. Our Beverly Hills chiropractor looks forward to helping you overcome from your sports injuries!